Ultrasound
Advanced Imaging Program Development
Ultrasound is an important component of any urology practice as it provides physicians with the diagnostic tools needed to support their patient treatment plans. The experienced ultrasound team works with affiliates to help develop a sophisticated ultrasound program that is focused on the highest level of quality, efficiency, and patient safety.
Specially trained Registered Diagnostic Medical Sonographers provide physicians with same-day test results to ensure a quick and accurate diagnosis.
Ultrasound Accreditation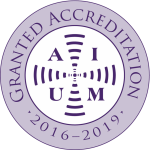 In addition, United Urology Group's Ultrasound leaders work with affiliates to achieve accreditation for their Ultrasound Department through the American Institute of Ultrasound in Medicine (AIUM). Achieving this AIUM Accreditation sets United Urology Group affiliate practices apart as leaders in urologic ultrasound. Practices accredited by the AIUM have demonstrated competency in every aspect of their operation including personnel education, training and experience, document storage and record-keeping, policies and procedures, safeguarding patients, ultrasound personnel, equipment instrumentation, quality assurance, and case studies.